Filtered Water Coolers Melbourne
Prestige Water Filtered Water Coolers and Dispensers Melbourne
This is the Filtered Water Coolers Melbourne range. Click on an image to find out more about the product and prices:

Filtered Water Coolers Melbourne offers outstanding water cooler systems including a filtration bottle. Inside the filtration bottle you find our 7-stage water filter cartridge. The refillable filtration bottle will remove impurities such as chlorine, heavy metals and organic sediments from your tap water and also very important minerals will be added back to the water as well. So you can be sure that our filtered water coolers If you like to remove fluoride as well, please call us and we can supply you with our improved 8-stage filter system. Fluoride in tap water. Filtered Water Coolers Melbourne will deliver great tasting drinking water for your family or business. Now you can enjoy unlimited nice drinking water free from your own tap. Never run out of water anymore. There is no plumbing required, just plug in the power cord. Simply top up the filtration bottle as often as you like, never run out of great tasting water. All models are dispensing chilled water and the red tap will dispense hot water for all your hot water drinks such as coffee and tea. If you do not require hot water simply switch it off at the back and the hot tap will dispense room temperature water. So all filtered water coolers Melbourne will have these options for you to choose from. Why is water good for you?

Filtered Water Dispensers Melbourne FILTER SYSTEM
This is the 7-stage filtration bottle from Filtered Water Coolers Melbourne: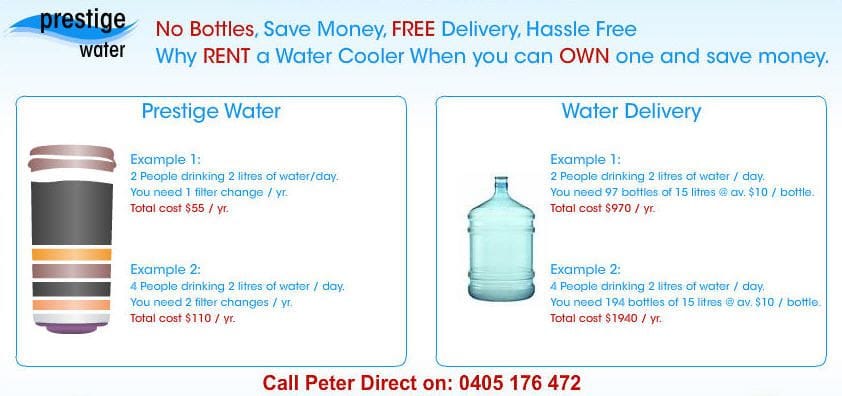 This filtration bottle on top of the water cooler is easy to fill with your own tap water. Filtered water vs Bottled water. Just remove the lid and fill a jug with tap water. Poor the tap water in the top compartment of the bottle and all the water will filtered through our 7-stage cartridge. Tap water contains some chemicals such as chlorine and other and our filter will remove these. Why is water important? Also some minerals are added back to the water.
For more detailed information please click here: MORE info filtered water coolers Melbourne
Or send us an email: EMAIL filtered water coolers Melbourne
Or call us on: 1800 500 334