Benchtop Water Coolers Brisbane
Prestige Water has a very modern design of the Benchtop Water Coolers Brisbane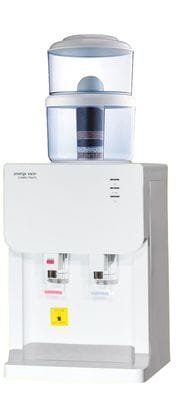 Benchtop Water Coolers Brisbane
This Benchtop Water Cooler Brisbane can be placed on your bench top or on a table.
Dimensions :
Height: 82cm (including filter bottle)
Width: 32cm
Depth 32cm
Features:
7 Stage filtration System
Chilled Water Tap
Hot Water Tap
Removable Drip Tray
On / Off Switches for both Chilled and Hot Water
LED Display

Wow, imagine this modern looking Benchtop Water Cooler Brisbane in your home or office. It will not take up a lot of space. For dimensions see above. This Benchtop Water Cooler Brisbane is fitted with a 7-stage filtration bottle. You never will have to buy bottled water again. Benefits of drinking water. Simply remove the lid from the bottle and poor in your own tap water. All the water you put in will be filtered by our 7-stage filtration system. Chemicals such as chlorine, heavy metals, sediments, and other will be removed while some minerals are added back to the water. You just made your own clean and healthy drinking water free from the tap. UNLIMITED drinking water, because you can refill as other as you like.
On the back of this Benchtop Water Coolers Brisbane you find 2 switches. Bench Top Water Cooler. The green switch you can turn on the chilled water tap and the Red switch is for your hot water. The temperature of the hot water is 97C, so perfect for your cup of coffee and tea. If you do not require hot water, simply switch of the hot water switch and this tap will dispense room temperature water.
We also have other models available. Please click here to find out about our complete Water Cooler Range: Cooler Range
You can also visit our main web page for all other items and specials: Prestige Water
For questions please send us an email: Email Benchtop Water Coolers Brisbane or give us a call on 1800 500 334