Water Cooler Mackay
Great tasting water made from your own tap with Prestige Water Cooler Mackay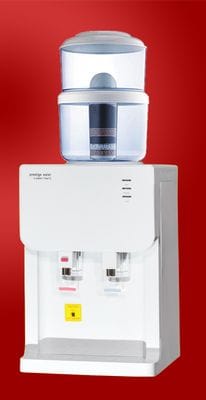 Benchtop Water Dispenser Mackay:

---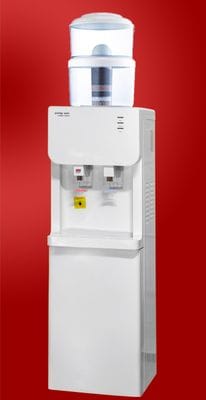 Floor Standing Water Dispenser Mackay:

---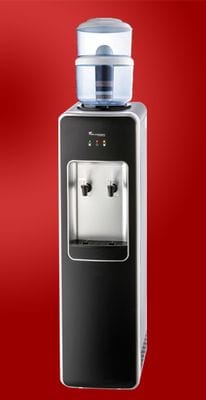 Exclusive Water Dispenser Mackay:

---
How much water to drink from your water cooler Mackay
Why is it important to drink water?
The body can not function properly without moisture or water. Water is of utmost importance for the absorption of nutrients in the intestines, for regulating the body temperature and for transporting waste through the body. If you do not drink enough, dehydration symptoms can easily occur. In that case the body secretes more fluid than it absorbs. Drink more water in hot weather. The effects of dehydration can be very annoying and manifest in thirst, headache, nausea, stiff muscles, faster heartbeat, lowered blood pressure, a weak feeling, confusion, or - very extreme - even a shock. Although children and the elderly are most susceptible to dehydration, everyone has to be careful that things do not go that far. It is easy to remember: when you start to feel thirsty, your body is already drying out. In short: avoid getting thirsty and drink water all day long!
A healthy fluid balance
The body of a woman consists of 52% moisture on average. This is 63% for men. In short: a woman may have to make more effort to maintain her fluid. The body loses fluid in various ways: through urine, feces, sweat and breathing. In short: your body loses fluid all day long and you have to supplement that. Although your body naturally works all day long to update your fluid level, you must ensure that moisture enters. Let's take a look at the average fluid balance of an adult person. We assume not too strenuous efforts and a normal ambient temperature.
An average of 2500 milliliters per day comes through:
approximately 1250 milliliters via drinking water
about 900 milliliters via food
approximately 350 milliliters via oxidation water
An average of 2,500 milliliters per day is excreted by
approximately 1400 milliliters via the urine
about 100 milliliters through the stool
approximately 500 milliliters via the exhalation
approximately 500 milliliters via sweating
As a guideline, the Health Council states that 70% of all the fluid that you get in one day has to come from drinks.
How much water should I drink in a day?
A fairly general advice is to drink about 1.5 to 2 liters of water per day from a water cooler Mackay. That means: in addition to the moisture that you automatically already ingest. However, there are exceptions. When do you need more moisture? Bottled water, tap water or filtered water.
You need more fluid to balance your body when you:
are pregnant or breast-feeding
sport
living in a warm climate or on vacation
eat (very) salt
drink alcohol (major culprit in the field of dehydration!)
sick (fever and diarrhea you lose a lot of fluid)
Do you struggle to take 1.5 to 2 liters of water? Cold water drinking. We will give you some tips below to make drinking water easier. An excess of water hardly ever occurs, only if you drink extremely much. Your kidneys can process about 0.7 to 1 liter of water per hour. So you do not have to worry about drinking too much unless you hang under the tap 24/7, of course;)
How do I drink 1.5 liters of water in a day?
Maybe you think now: very nice 1.5 liters of water in one day. But how am I going to do that in my name? We are all busy and often 'on the go', so it can still be a challenge. With the following tips we might make the goal more feasible!
Put a can with water on your desk. Fill the pot with 1.5 to 2 liters of water from your water cooler Mackay and let it reach room temperature. It is not good to just drink ice-cold water, so a little warmer water can not do any harm. If you are in a very warm working environment, then you can of course add some ice cubes for a slightly fresher effect. By having a can in front of you, you are constantly reminded that you still have to drink water. Can food influence your sleep. Many people just forget it! You make yourself super easy: you do not even have to get up. Put a nice glass and give it! Before you know it, you have the jug empty. That should at least be done before the end of your work day?
Make sure you always have a bottle of water with you. Bottles of water are no longer out of the streets, everyone seems to have them with them. Of course you can go for a plastic disposable item, but you can also invest in a nice sustainable water bottle that you use with a lot of pleasure for a long time. Examples include the Bobble, the Dopper and the Prestige Water bottle. Getting a bit stylish for the day is also important!
Make drinking water fun by adding tasty things to your water. Think of slices of cucumber and lemon, fresh mint leaves or frozen red fruits such as raspberries and blueberries. You can suddenly see water more attractive and it tastes great!
---
Prestige Water Cooler Mackay, Water Dispenser Mackay, Water Filter Mackay
Mackay City, East Mackay, West Mackay, North Mackay, South Mackay, Andergrove, Beaconsfield, Blacks Beach, Bucasia, Cremorne, Dolphin Heads, Eimeo, Erakala, Foulden, Glenella, Mackay Harbour, Mount Pleasant, Nindaroo, Ooralea, Paget, Racecourse, Richmond, Rural View, Shoal Point, Slade Point, Te Kowai, Bakers Creek, Ball Bay, Brampton Island, Calen, Dalrymple Bay, Farleigh, Halliday Bay, Hampden, Kuttabul, Laguna Quays, Lindeman Island, McEwens Beach, Midge Point, Mount Ossa, Oakenden, Pindi Pindi, Seaforth, St Helens Beach, Walkerston, Alexandra, Balberra, Balnagowan, Belmunda, Bloomsbury, Chelona, Dumbleton, Dunnrock, Greenmount, Habana, Homebush, Mentmore, Mount Charlton, Mount Pelion, Palmyra, Pleystowe, Rosella, Sandiford, Sunnyside, The Leap, Victoria Plains, Yalboroo, Benholme, Crediton, Dalrymple Heights, Dows Creek, Eton, Eungella, Eungella Dam, Finch Hatton, Gargett, Hazledean, Kinchant Dam, Marian, Mirani, Mia Mia, Mount Martin, Netherdale, North Eton, Owens Creek, Pinevale, Pinnacle, Septimus, Alligator Creek, Armstrong Beach, Campwin Beach, Freshwater Point, Grasstree Beach, Half Tide Beach, Hay Point, Koumala, Louisa Creek, Munbura, Sarina, Sarina Beach, Sarina Range,West Plane Creek.