Water Coolers / Dispensers Wollongong
We can offer you free unlimited great-tasting water.
More and more Homes, Offices and Businesses choose a filtered water cooler instead of buying bottled water. It all makes sense, who likes to pay a fortune on bottled water if you can easily make your own. Prestige Water is Australia's largest water cooler/dispenser company with a filter bottle. Yes, all our models will have a self-filling filtration bottle including a filter cartridge. You use your own tap water and the filter will filter and purify the water for you. This means you never have to buy bottled water again. Here are some of our models to choose from. Please click on one of the pictures and you will get all the information you need.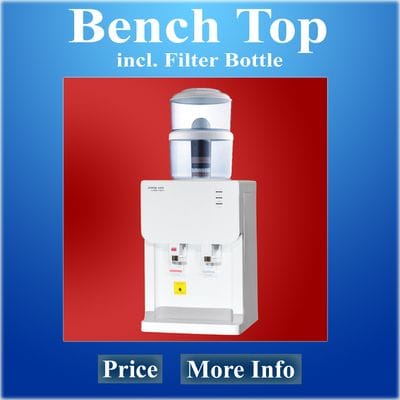 PRICE Bench Top Water Coolers Wollongong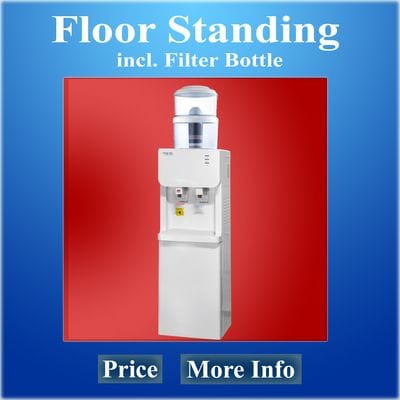 PRICE Floor Standing Water Coolers Wollongong
Check out our water cooler Wollongong range and we offer the best prices in Australia. The Bench Top water cooler Wollongong with filter is perfect for Home and Small Office use. This water dispenser will dispense chilled water and there is an option for hot water as well. Instant hot, filtered water is available for coffee, tea, and other hot water drinks. If you do not like to use the hot water facility you can switch it off at the back of the water cooler, and this tap will dispense room-temperature water. The Floor Standing Water Cooler Wollongong works the same as our Bench Top model. You can put this water cooler anywhere you like. At the bottom, there is a 20 ltr storage cabinet. You can put some cups or glasses in here.
Spoil yourself every day with very nice tasting drinking water from one of our water dispensers. To own one of our complete products starts from $299 and most of the time we have specials as well. Please call us to find out the best deal possible.
---
Some interesting articles:
How important is drinking water?
Only $ 299 for the Bench Top Water Cooler System Wollongong
Only $ 399 for the Floor Standing Water Cooler System Wollongong