Water Cooler with Bottle and Filter
Great tasting water made from your own tap with Prestige Water Cooler with Bottle and Filter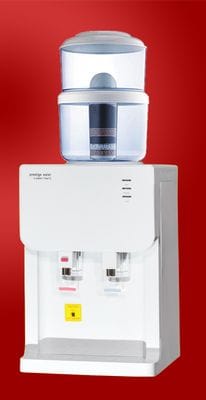 Benchtop Water Dispenser with Bottle and Filter:

---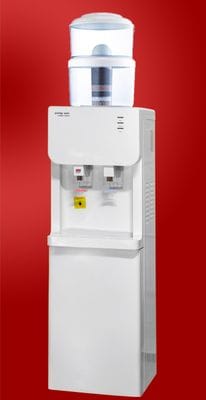 Floor Standing Water Dispenser with Bottle and Filter:

---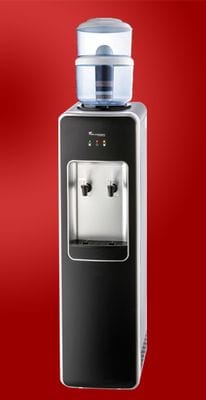 Exclusive Water Dispenser with Bottle and Filter:

---
All the benefits of drinking clean filtered water from a water cooler with bottle and filter
Water in the morning
6 Facts about drinking water. Water in the morning brings several benefits, including:
Balances your lymph system
By drinking water you balance your lymph system. By water you literally rinse the wrong substances from your body, this reduces the chances of infections. Anti-Colds and drinking water. This helps you with all your daily activities. You will feel fresh and healthy and your body will be in balance.
Healthy skin
As mentioned above, you cleanse your body by drinking water. This will also be reflected in your skin. All toxins will be out of your body and your skin will shine again. What does drinking water really does for your skin.
Helps you lose weight
By drinking water you become full, but most importantly, your metabolism will start to work faster. This helps you burn more calories. An adult who drinks eight glasses of water has an increase in the metabolism of 25% compared to an adult who drinks four glasses of water. Great tasting water with minerals from a water cooler with bottle and filter.
Production of new blood and muscle cells
The production of new blood and muscle cells will accelerate and increase. You will burn more calories at rest from more muscle mass.
Absorb nutrients
When you drink a glass of water on an empty stomach, you cleanse your stomach. It cleanses the wall of your stomach so that your nutrients can absorb better, this will make your body better able to digest your food.
Starting up your organs
Because you drink water immediately when you wake up, you will give your organs a big boost. Your organs will start working right because they have to digest the water. This also means that your metabolism will work, so that you burn your calories.
Drinking other times for drinking for water
Before the meal
By drinking a glass of water before eating, you will feel fuller. Your stomach can not distinguish between eating and drinking! If you are fuller you will stop eating sooner. This means taking fewer calories! A glass of water will also help you digest your food faster. Win-win situation.
For a bath
If you take a glass of water before you take a bath, you will lower your blood pressure.
Before going to sleep
If you drink a glass of water before bed, you will suffer less from heart failure, heart attacks and bags. So nice!
Other benefits
Quit smoking
Drinking a lot of water also helps if you want to stop smoking. Just like before, water will flush out all toxins, including nicotine, from your body. Because there is less nicotine in your body, you are less likely to start smoking.
Against a hangover
Drinking water from a water cooler with Bottle and Filter is good against a hangover! Do you have a headache after a night out? Drink enough water the next day. Also drinking two glasses of water before bedtime is a panacea for a hangover. Alcohol removes fluid from your body. Also from your brain, that is why you will usually experience headaches the next day. Water will help you to fill your fluid deficit and flush the alcohol out of your body. Use the cold water tap from your water cooler with bottle and filter.
Conclusion
In short, water is super healthy. Water is essential for a healthy lifestyle. Try to drink 2-3 liters of water every day. Drinking lemon water in the morning is good for you. As mentioned above, you benefit greatly from it. So what are you waiting for? Do not drink your calories, drink water and then you also benefit from all additional extras.
---
Prestige Water Cooler with Bottle and Filter, Prestige Water Dispenser with Bottle and Filter