Townsville Floorstanding Water Coolers | Prestige Water

The Townsville Floorstanding Water Coolers from Prestige Water are ideal for smaller places or where only a few people will be using it. This Townsville Floorstanding Water Cooler is great for those who don't want to drink tap water and don't have the room to store multiple water bottles. This unit is compact, stylish and has a modern design that fits on your kitchen bench. Designed with the user in mind, both taps are located at an ideal height, eliminating the need to bend too far down to dispense water. Other convenient features include a removable drip tray, self closing faucets and a large 12 litre capacity filtration bottle.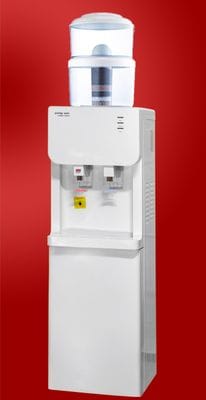 Dimensions :
Height: 135cm (including filter bottle)
Width: 32cm
Depth 32cm
---
Our Townsville Floorstanding water coolers are perfect designed for households or small businesses. Simply remove only the lid from the 7-stage filtration bottle and fill from the tap. The build-in 7 stage filter will remove chemicals such as chlorine, heavy metals, etc from your tap water and very important minerals are added back to the water.
Find out more about our Townsville Floorstanding Water Coolers :
Information
Find out more about our 7-stage filtration bottle:
Filtration
To go to our Home Page:
Home
Prestige Water Floorstanding Water Coolers Townsville can offer you also other models than the Townsville Floorstanding Water Cooler. For prices please visit our website.
The Townsville Floorstanding Water Cooler will dispense chilled water and also hot water for your coffee, tea, etc. If you do not require hot water simply switch of the hot water part and this tap will dispense room temperature water.
If you like to send us an email please click here: Townsville Floorstanding Water Coolers
How does our 7-stage Townsville Floorstanding Water Coolers filter work