Perth Bottled Water | Perth Water Coolers
Filtered Water Coolers with Perth Bottled Water
Is your health important to you and do you know what you drink ?
Perth bottled water from Prestige Water is providing their customers with the highest quality of healthy drinking water made from your OWN tap. If you do not like the taste of regular tap water and want to improve the quality of water you drink, please find out here how you can drink only the best, and free from the tap.
Click on the image to find out the prices and more

Drinking the best with Perth Bottled Water
Prestige Water is a specialist in filtered Perth Bottled Water. Why buy expensive water if you can make it yourself free from the tap. Unlimited drinking water and know what you drink. You are 75 - 80 water so why drink water with chlorine from the tap. Chlorine is added to the water by all water companies to disinfect. Chlorine is toxic so it make sense to remove it before drinking. This is the Prestige Water filtration bottle: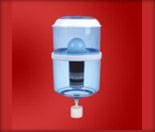 This amazing filtration bottle from Perth Bottled Water | Prestige Water will remove chlorine and other impurities from tap water. Also very important minerals will be added back to the water so you can drink unlimited healthy drinking water free from your tap.
Please click here for prices: Perth Bottled Water
If you have any questions please send us an email: Email Perth Bottled Water
Or give us a call: 1800 500 334