Floor Standing Water Dispensers Brisbane, Gold Coast, Sunshine Coast
If you are looking to purchase a Floor Standing water dispenser in Brisbane, Gold Coast or Sunshine Coast and do not want to pay for water anymore, please see our product here.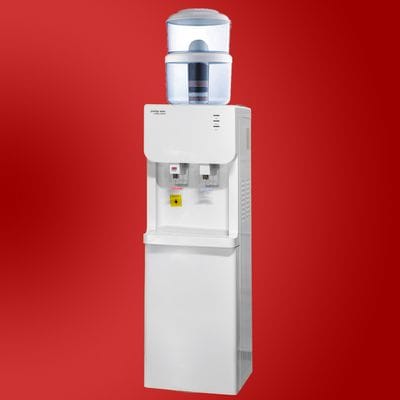 Floor Standing Water Dispenser Brisbane
Never having to pay for your drinking water? Yes, that is possible. Prestige Water floor standing water dispenser Brisbane has a filtration bottle installed on the floor standing water dispenser. This means you never have to buy drinking water again. If you are concerned about impurities in your drinking water please reed here how you can filter and purify your own tap water. Simply remove the lid from the filter bottle, fill up your jug with tap water and poor this into the top compartment of the filtration bottle. The tap water will flow through the filter cartridge where chemicals such as chlorine, organic sediments will be removed. Also some very important minerals will be added back to the water and the water will be more alkaline. This multy stage filter cartridge will convert regular tap water into great tasting drinking water. Never run out, simply refill as often as needed. This Floor Standing water dispenser Brtisbane has a chilled tap and a hot water tap. You find 2 switches at the back of the water dispenser. The green switch will turn on the chilled water and the red switch will turn on hot water for all your hot water drinks such as coffee, tea. If you do not need the hot water, simply switch of the red switch at the back of the water dispenser and this tap will dispense room temperature water. In south east Queensland we service areas from Brisbane, Gold Coast, Sunshine Coast, Ipswich, Toowoomba, and more.
---
Other models: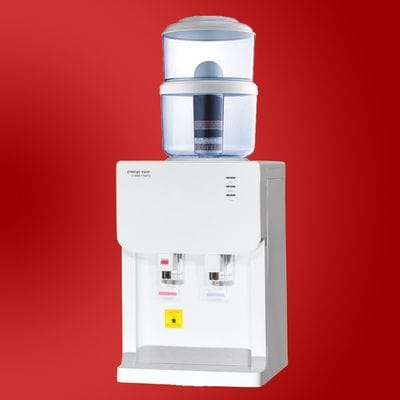 Bench Top Water Dispenser Brisbane
WOW, this bench top model will fit perfectly on your kitchen bench. It works the same as our floor standing water dispenser but there is no storage cabinet underneath.
---
A chilled floor standing water dispenser Brisbane or the bench top model in your home or office. You, your whole family or staff will have instant access to healthy drinking water all the time. No need to fill up your fridge with bottled water anymore.
For more information and our great prices and offers please visit our home page: Prices Floor Standing and Bench Top Water Dispensers
Questions, send us an email: Email Floor Standing and Bench Top Water Dispensers
---
Water Coolers Brisbane, Filtered Water Coolers Brisbane, Water Dispensers Brisbane