Water Cooler Ipswich
Great tasting water from your own tap with Prestige Water Cooler, Dispenser, Filter Ipswich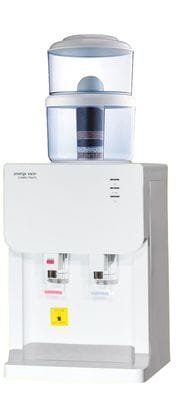 Bench Top Water Dispenser Ipswich:

---

Floor Standing Water Dispenser Ipswich:

---

Exclusive Water Dispenser Ipswich:

---
Water with a taste
With this warm weather it is very important to drink enough. Fruit water. And drinking soft drinks throughout the day is of course very unhealthy. Water from an Ipswich water cooler is the best choice as a thirst lesser, but still very boring. More and more water is consumed with a taste. Fill a carafe or can with water, add a few slices of lemon and put the water in the fridge to cool. This is an example of how to make water with a taste and make your water even more enjoyable. We will give a few examples below. Actually I should drink more water.
Water with a taste - general tips
Use carbonated water to indicate an additional twist.
Add some ice cubes to keep the water cool. Cold water from the Ipswich water cooler.
Leave the water for a while (covered) in the refrigerator, so it is cool and can taste well in the water.
Water with a taste - citrus fruit
Lemon water healthy and delicious. Citrus fruits are doing well in water. Both lemon and lime as orange as grapefruit can be added to water for a delicious fresh-sweet taste. Lemon juice in your water - super healthy.
Water with a taste - mint
Also mint is doing very well in water. Mint gives a delicious fresh taste to the water and can also be combined well with, for example, lemon.
Water with a taste - ginger
Ginger also tastes delicious in water, combining with citrus fruit and some fresh thyme for a special taste experience.
Water with a taste - cucumber
Cucumber gives a delicious fresh taste to water, a good tip by the one who does not like it.
Water with a taste - red fruits
Red fruits like strawberries, blueberries, raspberries, blackberries etc., give water a delicious sweet taste.
Water with a taste - basil
Fresh basil can also be added well to water, combined with, for example, strawberries or other red fruits, basil gives a special taste to the water.
Do you also drink water with a taste? Please let us know if you have a nice combination!
---
Prestige Water Cooler, Dispenser, Filter in Ipswich
We currently service water coolers, water dispensers and water filters in Ipswich and Pine Mountain, Mauirlea, Ironbark, Haigslea, Marburg, Tallegalla, The Bluff, Ashwell, Lanefield, Rosewood, Thagoona, Mount Marrow, Walloon, Amberley, Yamanto, One Mile, Leichardt, Wulkuraka, Brassall, North Ipswich, Tivoli, Basin Pocket, North Boval, Booval, Bundamba, Dinmore, Ebbw Vale, Blackstone, Raceview, Flinders View, Chuwar, Karalee, Barellan Point, Riverview, Redbank, New Chum Collingwood Park, Goodna, Carole Park, Gailes, Camira, Bellbird Park, Springfield, Brookwater, Augustine Heights, Redbank Plains, Swanbank, Ripley, Springfield Lakes, Springfield Central, Spring Mountain, White Rock, South Ripley, Deebing Heights, Goolman, Willowbank, Mutdapilly, Ebenezer, Calvert, Lower Mount Walker, Purga, Calvert, Grandchester and Mount Mort, Gatton, Ballard, Murphys Creek, Upper Lockyer, Lockyer, Withcott, Poatman Ridge, Helidon Spa, Helidon, Iredale, Blanchview, Flagstone Creek, Upper Flagstone, Stockyard, Rockmount, Mount Whitestone, Ma Ma Creek, Upper Tenthill, Winwill, Lower Tenthill, Veradilla, Grantham, Placid Hills, Ropeley, Blenheim, Laidley Creek West, Laidley South, Laidley, Laidley Heights, Laidley North, Summerholm, Plainland, Hatton Vale, Kensington Grove, Regency Downs, Forest Hill, Lawes, Adare, Glenore Grove, Lockrose, Morton Vale, Spring Creek, Lockyer Waters, Churchable, Mulgowie, Mount Berryman, Rockside, Thornton, Lefthand Branch, Mount Sylvia, Fordsdale, Junction View, Black Duck Creek, East Haldon.