Water Coolers Dubbo - Prestige Water
Are you drinking tap water or tank water, and like to filter it, you could consider the 7-stage filter system from water coolers Dubbo
Prestige Water is the leader in the Australian market in filtered water coolers and water dispensers. All our water coolers will have a filter bottle that will convert your tap water or tank water into healthy drinking water. We have several models available: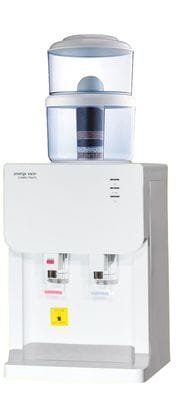 More info and prices: Bench Top Water Coolers Dubbo

More info and prices: Floor Standing Water Coolers Dubbo
---
7-stage filtration for healthy drinking water
Our water coolers Dubbo will come with a filtration bottle including a 7 stage filter cartridge. You can filter and purify tap water and tank water into great tasting drinking water. Why buy expensive bottled water if you can easily make your own. Our filters are one of the most advanced in Australia. Here is how the filter works:
The filter cartridge consists of: pre-filter - active carbon - mineral balls - coral sand - silver loaded active carbon - mineral malls - inner ceramic filter
Why buy bottled water if you can make your own drinking water with added minerals
Unlimited cold water for refreshments, Having a full glass of water all the time
Unlimited hot or room temperature water for tea and coffee
Fill the filter bottle from your tap
No heavy lifting of water bottles
No stuffed fridges with water bottles
No storage area problems for full or empty bottles
Never pay rent on your water cooler
Why buy Prestige? Water Coolers Dubbo Prestige Water is recognized as the No 1 water cooler supplier in Australia. We have the best quality with advanced filter technology and reliable service. We can supply you, your family or staff with unlimited healthy drinking water with added minerals for FREE. So why wait? Benefits of Drinking Water.