Floor Standing Water Coolers Rockhampton
Read about our Floor Standing Water Coolers Rockhampton
If you would like NOT buying bottled water and still want to drink great tasting water for free find out here how! This is one of the Floor standing Water Coolers Rockhampton: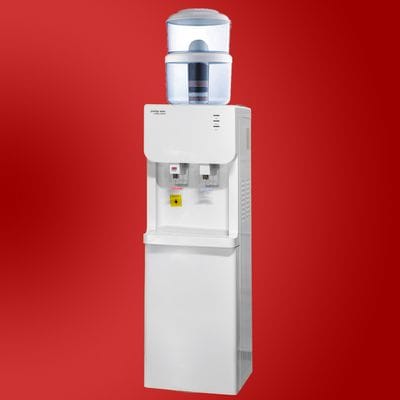 Floor standing Water Coolers Rockhampton

The Floor standing Water Coolers Rockhampton attractive design could fit perfect into your home or business. They only require a small space, 32cm x 32 cm and only 1 power point. No plumbing is required so you can install the Floor standing Water Coolers Rockhampton anywhere you like. With the 7-stage filtration bottle you can make your own healthy water free from your own tap. Just remove the lid from the bottle and fill a jug. Poor the water in the to compartment of the filtration bottle and all the water will be filtered. The filter cartridge will remove impurities such as chlorine and others from the tap water and also very important minerals will be added back to the water. The Floor standing Water Coolers Rockhampton itself are equipped with 2 taps. The blue tap will dispense chilled water for refreshments and the red tap has 2 options: If switched on this tap will dispense hot water for coffee, tea and all your other hot water drinks. The temperature is 97 C. The Floor standing water cooler Rockhampton has a cold and hot water tap. If you do not require hot water, simply switch off the hot water switch at the back of the cooler and you can enjoy room temperature water. Underneath the taps there is a removable drip tray. If needed you can empty out the tray. At the bottom there is a 20 ltr storage with a shelf. You can put in here your glasses.

Are you dehydrated?
Staying hydrated is crucial for maintaining your physical and also mental well being. Do you or is your family or staff drinking enough water? If you did not drink enough water the colour of your urine will be darker. This is a simple way to check is you drink enough water. If the colour of your urine is darker you can easily fix this by drinking 2 glasses of water. It is proven that if easy access to drinking water will hydrate your body. Every time you see the water cooler you will think about drinking water and you drink more each day. If you don't see water you will think about water less and drink less. So why not read more about our products and filtration and order a Floor standing Water Coolers Rockhampton today.

Other water coolers: Other products from Floor standing Water Coolers Rockhampton
Email us: Email Floor standing Water Coolers Rockhampton
Or call us on: 1800 500 334