Tom Kha Gai - Chicken in Coconut Soup
Posted by Nick on 21 July 2014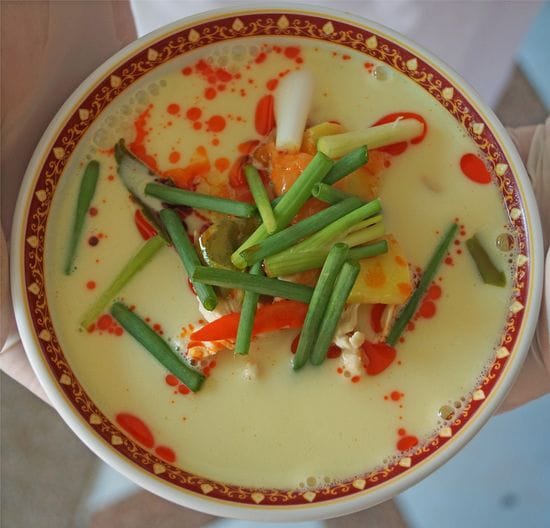 Serves: 4 Prep: 10 mins Cooking: 15 mins

Ingredients:

• 200g Chicken Breast, sliced
• 60g Straw Mushroom
• 40g Lemon Grass, sliced
• 40g Shallot, sliced
• 40g Ginger (or Galangal, if available), sliced
• 4 pieces of Turmeric, sliced
• 4 Kaffir Lime Leafs, finely chopped
• 6 Fresh Chilies, red or green, cut down centre
• 80ml of Chicken Stock
• 4 teaspoons of Sugar
• 4 teaspoons of Fish Sauce
• 4 teaspoons of Lime or Lemon Juice
• 2 teaspoons of Chilli Oil
• 12 pieces of Spring Onion
• Fresh Coriander, to serve

Method:

1. Place coconut milk, kaffir lime leafs, ginger (or galangal) slices, shallot slices and lemon grass slices in a pot on medium-high heat. Leave until boiling.
2. Add the chicken and mushroom and leave on medium heat for a few minutes.
3. Add the fish sauce and the sugar into the pot. Reduce the heat and simmer for at least 4 minutes or until the chicken is cooked.
4. Add the chilli oil and then stir, season to taste with lemon or lime juice.
5. Serve with coriander leafs.
Author: Nick
Post comment