Teriyaki Beef Salad
Posted by Nick on 7 May 2014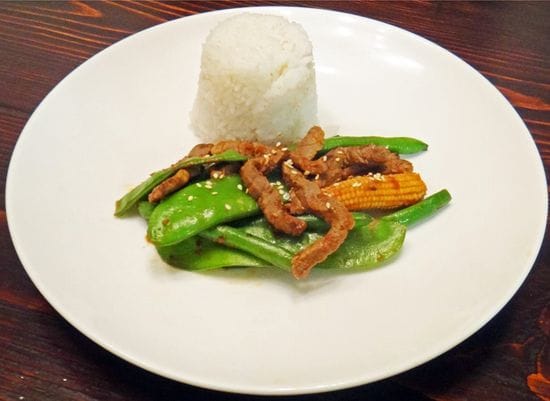 Teriyaki Beef Salad

Serves: 4 Prep: 15 mins Cook: 10 mins
Ingredients:
• 750g Beef Strips
• 1 tbsp of vegetable oil
• 300g Green Beans
• 300g Snow Peas
• 300g Baby Corn Spears, drained from a can
• 1/3 cup of Teriyaki Sauce
• 1/3 cup Spicy Tomato Sauce
• 2 tbsp of toasted sesame seeds*
• Rice or Noodles, to serve

Method:
1. Cook beef strips in a hot fry pan with half the vegetable oil for around 2 minutes or until cooked to your liking.
2. Remove the beef from the fry pan. Add the green beans, snow peas, and baby corn spears into the fry pan with the remaining oil. Stir-fry them for around 2 minutes.
3. Return the beef to the pan with the vegetables and the Teriyaki Sauce and Spicy Tomato Sauce. Stir-fry this for around 2 minutes until hot.
4. Serve with rice or noodles and a sprinkle of toasted sesame seeds.
* To toast sesame seeds, place them in a medium fry pan until golden.
Author: Nick
Post comment