Sautéed Prawns with Cashew Nuts
Posted by Nick on 1 October 2014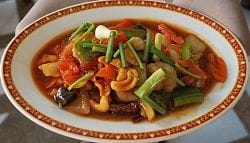 Goong Pad Med Mamuang – Sautéed Prawns with Cashew Nuts

Serves: 4 Prep: 20 mins Cook: 15 mins

Ingredients:

• 400g Prawns
• 1 tblsp of Vegetable Oil
• 80g of Carrots, Finely Sliced
• 80g of Straw Mushrooms
• 2 cups of Fish Stock
• 4 tsp of Soy Sauce
• 4 tsp of Sesame Oil
• 2 tsp of Oyster Sauce
• 2 tsp of Sugar
• 120g of Unsalted Cashew Nuts
• 2 tsp of Black Pepper
• 2 tsp of Chilli Paste
• 6 stems of Spring Onion, Chopped
• 20g of Chilli, Sliced
• 50g of Capsicum, Sliced
• 50g of Onion, Sliced
• 2 tsp of Garlic, Crushed and Chopped

Method:

1. Mix the prawns with soy sauce and black pepper, fry in a pan until pink in colour. Once cooked remove from pan.
2. Add the carrots, mushrooms, onion, capsicum and garlic into a frypan with vegetable oil and cook for 3-4 minutes. Add the prawns back into the pan and mix well.
3. Add the fish stock, sesame oil, oyster sauce and sugar. Mix together well.
4. Add the cashew nuts, chilli paste, spring onions and chilli and stir fry until cooked.
5. Serve with rice or noodles.
Author: Nick
Post comment