Salami and Semi-Dried Tomato Fettuccine
Posted by Nick on 19 May 2014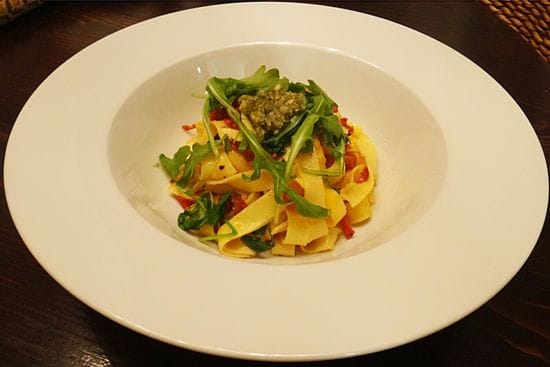 Serves: 4 Prep: 10 mins Cook: 45 mins

Ingredients:

• 500g Fettuccine Pasta
• 200g Salami, cut into thin strips
• 360g Semi-Dried Tomato strips, with oil
• 3/4 cup of Grated cheese
• 100g baby rocket
• 1/3 cup chunky basil dip with cashew and parmesan
• Mixed salad leaves, to serve

Method:

1. Place a saucepan with water on a high heat and place a deep fry pan on a medium heat.
2. Once water is boiling add a pinch of salt and the fettuccine. Cook the fettuccine until al dente then drain and put aside.
3. Add the salami to the fry pan and cook for 5 minutes. Then drain the semi-dried tomatoes, reserving 1 tablespoon of the oil. Add the reserved oil, semi-dried tomatoes and the fettuccine into the fry pan.
4. Stir-fry the mixture until hot then add cheese and half of the rocket. Cook this until the rocket has wilted.
5. Serve the mixture with the dip, remaining rocket and mixed salad leaves.
Author: Nick
Post comment