Pumpkin in Coconut Milk
Posted by Nick on 1 October 2014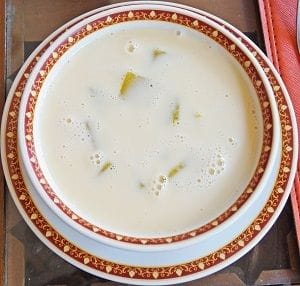 Fukthong Gang Buach – Pumpkin in Coconut Milk

Serves: 4 Prep: 10 mins Cook: 20 mins

Ingredients:

• 280g of Pumpkin, Banana or Sweat Potato, Diced into large pieces
• 2 cups of Coconut Milk
• 60g of Palm Sugar
• 4 tblsp of White Sugar

Method:

1. Boil the pumpkin or sweat potato prior to cooking.
2. Add coconut milk, palm sugar and white sugar into a saucepan over medium heat. Stir until sugar completely dissolves.
3. Add the pumpkin, banana or sweat potato and cook until tender. Be careful not to over boil it.
4. Serve and Enjoy!
Author: Nick
Post comment