Panang Gai - Chicken in Red Curry
Posted by Nick on 5 August 2014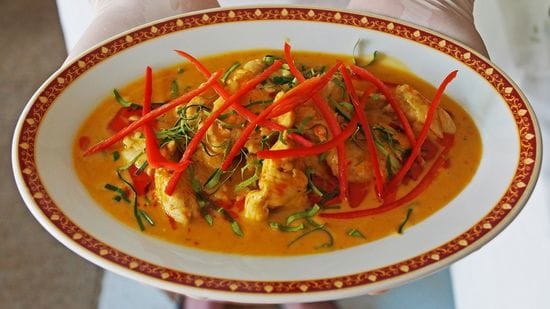 Panang Gai – Chicken in Red Curry

Serves: 4 Prep: 5 mins Cook: 20 mins

Ingredients:

• 240g Chicken Breast, Sliced
• ½ cup of Coconut Milk
• 2 tsp of Panang Curry Paste
• ½ cup of Chicken Stock
• 4 tsp of Lime Juice
• 2 tsp of Fish Sauce.
• 2 tsp of White Sugar
• 1 tsp of Salt
• 10 Red Chillies, finely sliced
• 12 Kaffir Lime Leafs, finely sliced
• 3 tbsp of Roasted Chili Paste with Oil

Method:

1. Add a splash of oil in a large fry pan on medium heat. Add the curry paste and fry until fragrant.
2. Add the coconut milk while stirring and heat until boiling.
3. Add the chicken breast and cook for 10-15 minutes or until nearly cooked through.
4. Mix in the sugar, fish sauce, lime juice and kaffir lime leafs and leave the mixture to simmer for 5 minutes.
5. Serve dish with red chillies and roasted chili paste oil.
Author: Nick
Post comment