Noodle Omelettes with an Asian Salad
Posted by Nick on 22 April 2014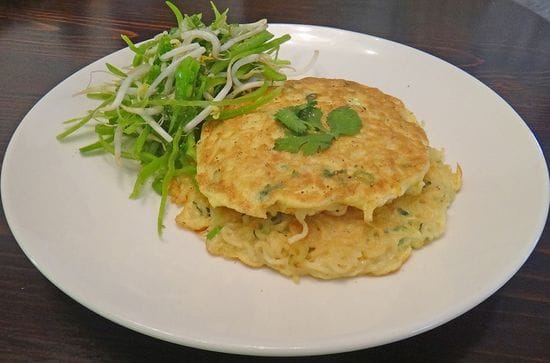 Noodle Omelettes with an Asian Salad
Serves: 4 Prep: 20 mins Cook: 30 mins

Ingredients:

• 3 × 85g of Instant Noodles, Singapore-flavored
• 8 eggs
• 3-4 spring onions, thinly sliced
• 2 tbsp olive oil
• 200g bean sprouts
• 150g Snow Peas, thinly sliced length ways
• 125ml of Asian dressing, to serve
• Coriander leaves, to serve

Method:

1. Place the instant noodles into boiling water until cooked, or per packet instructions. Once cooked drain the water and allow the noodles to cool.
2. Place the eggs in a bowl and lightly beat them. Then mix in the noodles, half of the spring onions and 1 flavor sachet.
3. Heat some of the oil in a fry pan. Add around 1/2 cup of the noodle mixture to the fry pan at a time and shape into an omelet shape. Cook for around 2 minutes on each side or until golden. This mixture should make around 8 omelette's.
4. To make the salad combine the bean sprouts, snow peas and the rest of the spring onions in a bowl.
5. Top omelette's with salad, coriander and Asian dressing.
We would like to know your thoughts and your input in this recipe. Please reply here: Noodle Omelette's
For more tasty recipes please look here: More
Author: Nick
Post comment