Moroccan Vegetable and Almond Curry
Posted by Nick on 30 May 2014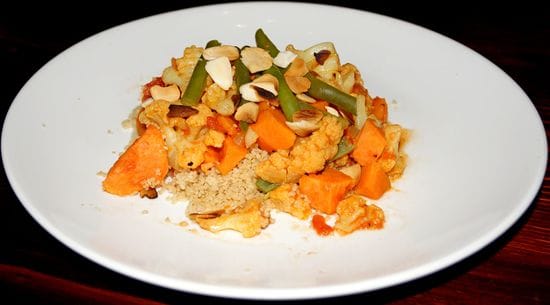 Serves: 4 Prep: 20 mins Cook: 20 mins
Ingredients:
• 1 Onion, diced
• 2 tblsp of Moroccan seasoning
• 2 tblsp of Vegetable Oil
• 600g of Sweet Potato, peeled than diced into 3cm cubes
• 2 Carrots, peeled and diced into 2cm cubes
• 800g Cauliflower, cut into small florets
• 400g can of Diced Tomatoes
• 1 cup of Water
• 200g Green Beans, split down the middle
• Salt and Pepper, to taste
• 1/3 cup Flaked Almonds, toasted, to serve*
• Corn Couscous, to serve

Method:
1. Add oil into a hot saucepan with onions and Moroccan seasoning. Once the onions are soft add the sweet potato, carrots and cauliflower and tomatoes and water.
2. Simmer with the lid on for around 20 minutes or until soft. Then add the green beans and cook for a further 5 minutes or until soft.
3. Season with salt and pepper and some toasted almonds and serve with corn couscous.
*To toast flaked almonds, place them in a medium fry pan until golden brown.
Author: Nick
Post comment