Five-spice Sticky Pork with Choy Sum
Posted by Nick on 8 April 2014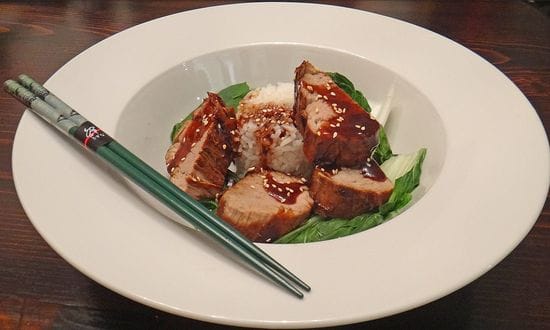 Five-spice Sticky Pork with Choy Sum

Serves: 4 Prep: 20 mins Cook: 25 mins
Ingredients:
• 4 tsps Chinese five-spice powder
• ½ cup char siu sauce (chinese barbeque sauce)
• 4 tbsp soy sause
• 4 tbsp caster sugar
• 650g pork fillets
• 2/3 cup filtered water (use water from your water cooler)
• 1 bunch choy sum, stems removed (substitute with bok choy)
• 1 tbsp toasted sesame seeds*
• Cooked rice or noodles to serve

Method:
1. Pre-heat oven to 180 C. Mix the five-spice powder, the char siu sauce, the soy sauce and the sugar in a bowl. Remove the excess fat off the pork and coat it with the sauce mixture. Reserve the remaining mixture.
2. Cook pork in a non-stick frypan with some oil for around 2 minutes on each side. Remove from pan and cook the pork in the oven for 10-15 minutes, or until tender and cooked to your liking.
3. Once the pork is removed from the oven, thickly slice it then set aside. Mix the reserved sauce mixture with the water in a frypan and simmer until thick.
4. Place choy sum leaves in a heatproof bowl and cover with boiling water. Stand for 2-3 minutes then drain water out.
*To toast sesame seeds, place them in a medium fry pan until golden.
We like to hear from you:
Please send us an email and tell us how you liked the recipe: Email
Author: Nick
Post comment