Atlantic Salmon wrapped in Filo Pastry
Posted by Nick on 7 July 2014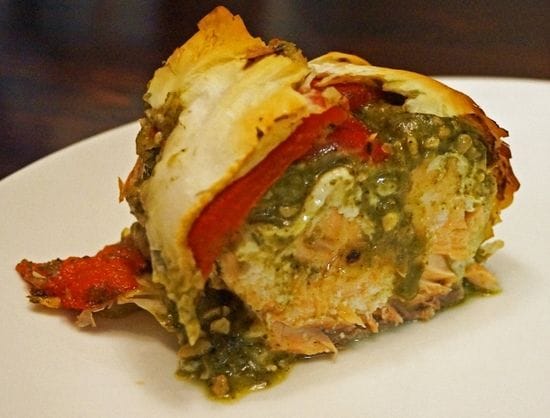 Serves: 4 , Prep: 30-45 mins , Cooking: 40 Mins
Ingredients:
750 g Atlantic Salmon (skinless)
2 Red Capsicums
5 Sheets of Filo Pastry
Olive Oil
Method:
Preheat oven to 200 C. Line a baking tray.
Place capsicums on the baking tray for 30 - 45 mins.
Once done, let cool for a little and remove skin and seeds.
On a flat surface prepare 5 sheets of filo pastry on top of each other. Divide Atlantic Salmon evenly thick and leaving 10 cm on both sides.
Top the salmon first with pesto sauce, than layer with the capsicum pieces.
To finish wrap first the sides of the filo pastry over the salmon, than front, followed by the back. Brush some olive oil over the top before putting the wrap in the oven.
Carefully place the wrap on a lined baking tray and cook for ca. 40 mins. on 200 c.
Remove from oven when golden brown and crispy.
Serve Salmon wrap with roast potatoes and mixed salad.
For more recipes visit our website blogs: More info
Or send us an email: Email Prestige Water Coolers
Author: Nick
Post comment